Peanut Butter and White Chocolate Blondies (Vegan, Gluten-Free)
Peanut butter and white chocolate... two wonderful things in life.
This blondie is dense and slightly doughy - which I love. Plus, although definately still a treat, apart from the white chocolate, there is no added sugar. So, take pleasure in knowing that it is (a little!) less naughty than your standard blondie.

This recipe is gluten and dairy free, and uses linseed as an egg replacement, so it can be enjoyed as part of a vegan diet.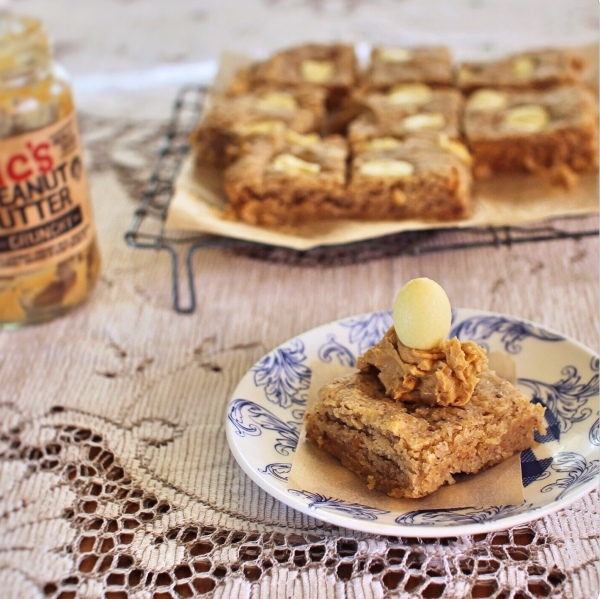 Ingredients - Peanut Butter and White Chocolate Blondies
​
4 Tablespoons ground flaxseed
11 Tablespoons just-boiled water (to mix with flaxseed)
1/2 cup plant-based milk (I use almond)
125 grams good-quality white chocolate
1/2 cup peanut, almond or cashew butter
2 teaspoons vanilla extract

1/2 cup gluten-free flour (I use rice flour)

1 teaspoon baking powder
1 and 3/4 cups ground almonds (also known as almond flour)
 
To decorate:
Icing sugar, sifted
Method
 
Preheat your oven to 170°C. Lightly grease and line a deep slice tin with baking paper.

In a mug or small bowl, whisk together ground flaxseed and just-boiled water. Place mixture in fridge while you prepare the rest your blondies.
 
In a heavy-based saucepan, heat almond milk over low heat. Once simmering, remove from heat and fold through broken chocolate with a rubber spatula until melted and smooth. Add nut butter and vanilla, and re-stir until combined and smooth.

In a separate bowl, sift together flour and baking powder. Add salt and ground almonds. Mix to combine.
 
Remove flaxseed mix from fridge. This should now appear 'gluggy', much like an egg mix. Stir with a fork to re-combine and then add to chocolate mix. Whisk all ingredients together.
 
Add dry flour mixture to wet chocolate mix. Fold until all ingredients are combined. Pour batter into your prepared tin.
 
Bake 22 - 27 minutes, or until the edges have firmed up. Be careful not to overcook - an inserted cake skewer should appear with a cakey, not dry, mixture.

 
Allow to cool in tin before transferring onto a wire lack. Once at room temperature, decorate as desired. If you're feeling like a real treat, top with peanut butter and a white chocolate egg, as pictured!
Yields: 6 large or 12 small blondie squares


Prep time: 20 minutes | Cook time: 22 - 27 minutes

Eat: Best eaten within 3-4 days. This brownie also freezes well

Variation: Try this Cadbury Cream Egg version with my chocolate  brownies, here!
Did you like this recipe? I'd so love for you to share your creation on Instagram and tag @ems_bakes. I do hope you enjoy!

​​