Zesty Oat, Walnut and Fig Flapjacks (Raw, Gluten Free, Vegan)
This recipe was inspired by a similar version online via California Walnuts UK. 
​
With ground walnuts mixed into the oat base, these flapjacks have a deliciously nutty texture. Ideal for an on-the-go breakfast or pre-workout snack.

​Enjoy!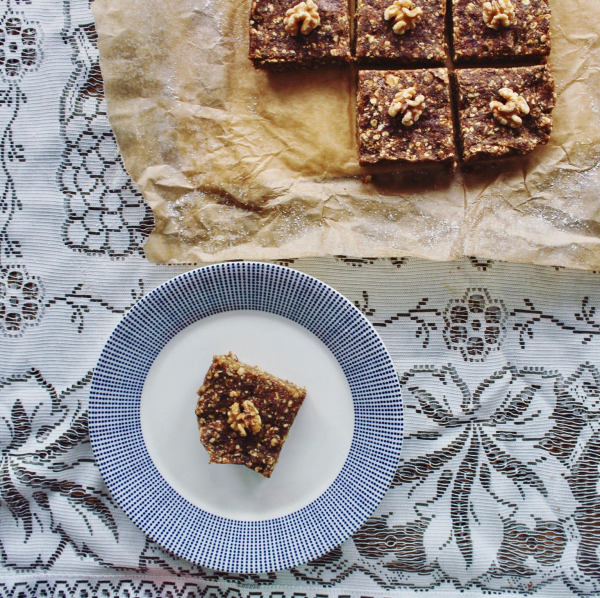 Ingredients - Zesty Oat, Walnut and Fig Flapjacks (Raw, Gluten Free, Vegan)
 
1 cup dried figs
1 cup medjool  dates
50ml coconut oil, melted
​1 and 1/4 cup walnuts
1 and 3/4 cup porridge oats

Finely grated zest of 1 lemon
2 Tablespoons maple syrup
1/4 cup gound flaxseed
​1/4 cup ground chia seeds
1/2 cup goji berries

Method
​
Grease and line a deep square slice tin with baking paper.

Place figs and dates in a heavy-based saucespan and pour over hot water until just covered. Over a low heat, bring to a gentle simmer and stir continously until the fruit softens and the water is just about dissolved. Use a potato masher to mash out lumps and form a fruit paste.

Place walnuts and 3/4 cup of the oats into a food processor and whizz until finely ground. Add the lemon zest, flaxseed, chia, maple syrup, coconut oil and fruit mixture. Whizz again until the mixture comes together into one lump.

Transfer into a large bowl and with your hands, mix through remaining oats and goji berries. Knead until all ingredients are combined.

Press mix into your prepared tray,  pushing into the corners until finely packed.

Transfer to fridge to set for 1-2 hours before cutting into squares. Decorate with a walnut on top of each slice.
​
Keep these flapjacks in the fridge before they are all gone!

Yields: Approx 12 flapjack squares
​

Prep time: 10 minutes | Chill time: 1 - 2 hours

Eat: Best eaten within 3-4 days. These flapjacks also freeze well

Did you like this recipe? I'd so love for you to share your creation on Instagram and tag @ems_bakes. I do hope you enjoy!

​​


​