Oat and Goji Energy Bars
 (Gluten Free, Dairy Free, Vegan)
These oat bars were inspired by a similar bar that I became quite addicted to, at Eighthirty coffee in Auckland.

Full of good stuff, these bites are perfect for a mid-afternoon pick-me-up or pre-workout snack.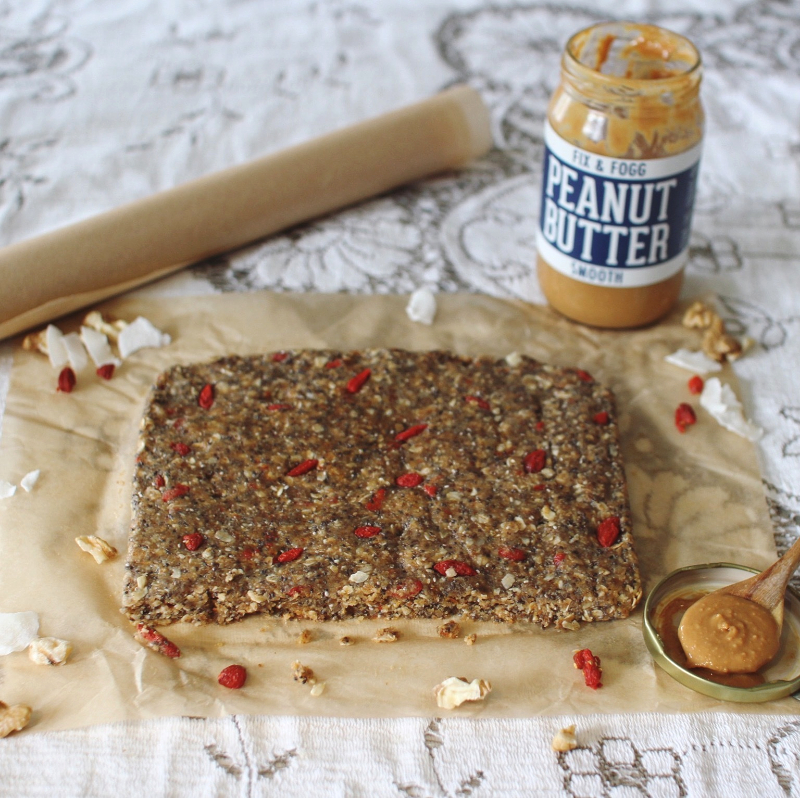 Ingredients - Goji and Oat Energy Bars - Gluten Free, Dairy Free, Vegan
 

Bars:
1/2 cup walnuts
1/4 cup brazil nuts
1/4 cup brown linseed
1/2 cup organic porridge oats OR (gluten free option) 1/2 cup millet* (see footnote)
1/4 cup chia seeds
1/4 goji berries
3 Tablespoons cashew butter (or other nut butter of your choice)
1 Tablespoon coconut oil
1 teaspoon good quality vanilla extract
2 Tablespoons water

Chocolate topping:
70 grams dark chocolate
1 teaspoon coconut oil
Additional goji berries and chopped pistachios, to decorate
*If using millet, I recommend adding 2 T maple syrup, to bar mixture, as millet has quite a sharp taste
Method
Line a small slice tin or larger loaf tin with non-stick baking paper.
​
Place walnuts, brazil nuts, linseed and oats (or millet)  in a food processor and whizz until ground. Transfer to a large bowl and stir through chia seeds and goji berries.

Separately, in a small saucepan over a low heat, melt 1 Tablespoon coconut oil with nut butter. Remove from heat and stir through water and vanilla extract.

Pour into ground nut mix and fold with a wooden spoon. Use your hands to combine all ingredients, so that the mixture is lumped together in a ball.  Add extra water/ground oats during this step if required to ensure mixture binds into a compact lump. 
Press mix into your prepared tray/tin,  pushing into the corners until finely packed.

To prepare your topping, melt chocolate with coconut oil in a small saucepan over a low heat.  Once smooth, spread across slice and sprinkle with additional goji berries + pistachios.

Transfer to fridge to set for 2-3 hours before chopping into squares and eating.
Yields: 8-12 bar squares

Prep time: 10 minutes | Chill time: One hour

Eat: Keep in the freezer and pull out slices as you wish, about half an hour before eating. Or, keep in the fridge for up to 5 days.